National - 15 August, 2020
PM Modi Unfurls The National Flag For The 7th Time On Independence Day, Here Are Key Takeaways From His Speech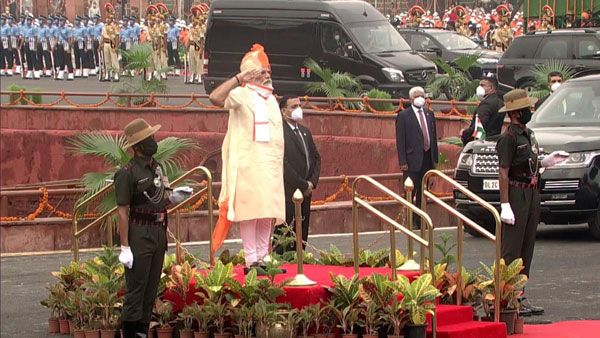 From COVID-19 vaccine to making India Atmanirbhar PM Modi focused on every crisis and its possible solution for the country's development. PM also announced the digital Health Card today.
Independence Day 2020: Prime Minister Narendra Modi unfurled the national flag for the 7th time for Delhi's Red Fort. In his 87 minute speech, the Prime Minister addressed every important issue and crisis the country is facing and the PM started his speech addressing the change in the Independence day celebrations due to the pandemic.
"We're going through distinct times. I can't see young children in front of me today (at Red Fort). Corona has stopped everyone. In these times of COVID, Corona warriors have lived the mantra of 'Seva Parmo Dharma' and served the people of India. I express my gratitude to them"

These are the key takeaways from PM Modi's Independence Day 2020 speech;
Remembering freedom fighters: This is a day to remember the sacrifices of our freedom fighters. This is also a day to show gratitude to Security personnel including that of Army, paramilitary and police ensuring our safety.
Atmanirbhar Bharat: The Prime Minister said that amid the Covid-19 pandemic, 130 crore Indians took the resolve to be self-reliant, and 'Aatmanirbhar Bharat' is on the mind of India. This dream is turning into a pledge. Aatmanirbhar Bharat has become a 'mantra' for the 130 cr Indians today.
"I admit there are lakhs of challenges for India to become atma-nirbhar (self-reliant), and yes, there is fierce competition from the rest of the world. But I always say that if India faces lakhs of challenges, it also has 130 crore solutions", said PM.
Modi Saluting Corona warriors: I salute the corona warriors who have worked relentlessly for the nation. I extend my condolences to families that have lost loved ones in this battle against coronavirus, said PM at Red Fort.
India has to stop exporting raw material, importing finished goods: Toward making India self-reliant Pm said that we have been exporting raw materials and buying finished products from other countries and this has to change. PM said that India needs to stand on its own feet as we move toward the 75th year of free India and enhance our resources to move forward towards development."India has to focus on its human resources and skill development.
" I am confident that India will realize this dream. I am confident of the abilities, confidence, and potential of my fellow Indians. Once we decide to do something, we do not rest until we achieve that goal: PM Narendra Modi from the ramparts of the Red Fort.
'Vocal for Local' Mindset: "The mindset of free India should be 'vocal for local'. We should appreciate our local products, if we don't do this then our products will not get the opportunity to do better and will not get encourage", PM Modi. "We have seen that when we put our minds to it, we can achieve anything. We never made PPE kits, our production of masks and ventilators was meagre, but today we are making them all", PM Modi.
3 Vaccines in Testing Stages: Today three vaccines are in testing stages in India. As soon as the scientists give a green signal, the country will begin their large scale production. the blue for mass production and distribution is ready and the vaccine will be available to the citizens as early as possible.
Education Has Key Role in Making India 'Atmanirbhar': "Education has a key role in the making of 'Aatmanirbhar', modern, new, and prosperous India. So, we have brought the new education policy after three decades that has been welcomed throughout the country, which instills new confidence."
India's daughters have become 'Atmanirbhar': Whenever women received an opportunity, they made India proud and strengthened it. Today, the nation is determined to provide equal opportunities for self-employment & employment to them. Today women are working in coal mines, our daughters are touching the sky while flying fighter planes," PM Modi